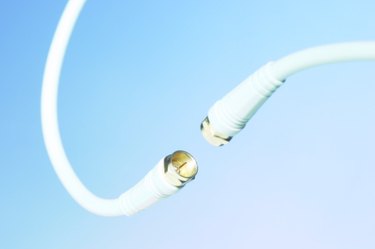 Comcast's On Demand service is an instant downloadable program-viewing tool included in some cable subscriptions. Rather than waiting to watch a program at the time the television broadcaster thinks you should watch it, or recording the program on a digital video recorder, Comcast provides an instant service for some programming. Problems with Comcast's On Demand service include trouble finding programs, and known issues that Comcast is trying to repair. You can correct problems by following some troubleshooting steps.
Step 1
Verify that you have a subscription to Comcast On Demand if you don't see it. Tune to Channel 1 and if you see the Comcast On Demand menu, you have it. Sign up to Comcast Digital Cable if you can't access Comcast On Demand. It won't work with regular Comcast cable television, or Internet-only service. Visit the Comcast Products and Prices website (see Resources) to sign up.
Step 2
Press the "On Demand" button on your remote control if you can't find On Demand programming easily. Scroll through the menus. For example, if you were looking for an HBO On Demand program, then from the On Demand menu, choose "Premium Channels" and then "HBO On Demand." Then choose the series and program you'd like to see.
Step 3
Exit Comcast On Demand if you attempt to access On Demand and a black welcome screen appears and you can hear audio, but the picture never appears. Re-enter On Demand.
Step 4
Press "001" on your remote control if the black screen problem continues and On Demand should appear.