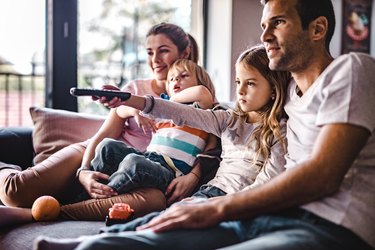 There's any number of reasons to use subtitles while watching your favorite shows or movies on Hulu: Whether you have trouble hearing, need text to better understand the dialogue in a video, or just prefer them for sake of convenience, streaming services like Hulu offer subtitles and closed captioning in various languages. These options are available on all devices, and while the exact steps you'll need to take to turn on Hulu subtitles will differ based on your device of choice, the process is designed to be quick and easy in every situation.
Subtitles on Hulu.com
When watching video on Hulu.com through a desktop or laptop browser, turning on subtitles is a simple, two-step process. In the video player, hover your cursor over the gear icon. Mouse over "Captions," then select your preferred option. The option you select will persist as you continue to use the service. Your Hulu closed caption preferences will carry over to other videos, so long as those preferences are available. Note that these preferences will persist regardless of profile.
Hulu Subtitles on TVs
When watching Hulu on TV-connected devices, enabling Hulu subtitles is slightly more complicated – but still easy. Press or swipe up on your device remote, or press the settings button if available, to open the video playback menu. From here, you will be able to adjust the language and subtitling options. Unlike on the desktop site, changes made on TV-connected devices are linked to individual profiles. However, on the Apple TV, subtitles are enabled through a device menu rather than a Hulu specific menu. To do this, swipe downward on your remote to find the "Info" panel, then swipe right to select "Subtitles." You will then be able to swipe downward again to select the option you want.
Mobile Device Subtitles
When watching Hulu on a mobile device like a tablet or smartphone, you need only tap the gear icon and select your subtitling options from the menu. Caption size can be adjusted through your device's screen and accessibility options – though on iPhones and iPads, you may still need to enable captions across the device through the "Settings" app. Navigate to "General" and then "Accessibility," and you will be able to scroll down to select your desired caption settings. On Apple devices, you will also be able to use this menu to change the size and style of the captions, as you would on a device running Android or a different OS.