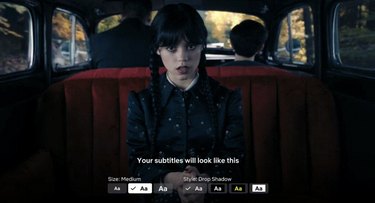 Netflix launched a new feature that lets you customize the size and style of subtitles and closed captions.
Now you can choose from three subtitle sizes: small, medium, and large. You can also select the color and style you prefer, including default white text, drop shadow (white text with black background), light (black text with white background), and contrast (yellow text with black background).
Previously, you were only able to switch around the subtitle options via the web, so now it's a lot easier to get it done directly on your TV or device.
Not only can being able to choose the font, size, and style of the subtitles allow you to choose what's most pleasing to your eyes, but it can be a tremendous help for users who are blind, have low vision, or are deaf or hard of hearing.
The new feature is available now on Netflix.