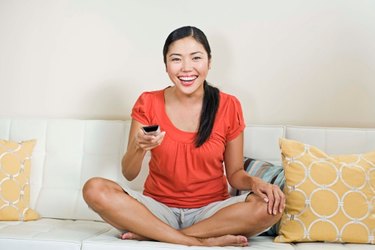 When an Insignia TV is locked, it keeps you from watching all of your channels by only displaying a black screen. Insignia TVs are locked from a single button command on the remote control, so it is easy for you to lock the TV by accident. Since Insignia TVs can be locked so easily, it's important to know how to undo this command and unlock the TV yourself. So, unlock your Insignia TV with the push of a button and once again enjoy watching your favorite programs.
Step 1
Find the lock button on the Insignia remote control. The lock button is located on the third column from the left on the second row from the top of the remote.
Step 2
Stand within operating range of the Insignia TV, then aim the remote at the TV's receiver and press the "Lock" button on the remote control.
Step 3
Aim the remote at the TV and press the channel buttons to make sure the TV is unlocked. When the TV is locked, it shows a black screen and does not allow you to view anything else. If the screen remains black, press the "Lock" button again. If this doesn't work, change the batteries in the remote and start over at step 1.