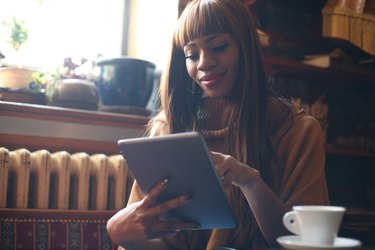 To keep your iPad up to date with current Apple software, updating the device is essential. When troubleshooting problems with the iPad, restoring the iPad to factory condition is often recommended. There is a distinct difference between updating the iPad and restoring the iPad. Updating the software on your device leaves your apps, data and settings intact. Restoring your iPad to factory condition installs software but removes your settings, data and apps, making an up-to-date backup of your data critical.
Step 1
Launch the latest version of iTunes on your computer.
Step 2
Connect the iPad to the computer using the USB connector cable that came with the device.
Step 3
Select the name of the iPad under the "Devices" heading in the left navigation panel of iTunes.
Step 4
View the "Summary" tab in the main iTunes window. Click "Check For Update." If a software update is available for the iPad, click "Update" to install it. The download and install takes a few minutes. Do not disconnect the iPad from the computer until the process is complete.
Step 5
Restore the iPad to factory conditions by selecting the name of the iPad under "Devices" and clicking "Restore" in the Summary tab of the main iTunes window.
Step 6
Select "Back Up" when asked if you want to back up the setting for the iPad before restoring the software.
Step 7
Click "Restore" when asked if you are sure you want to restore the iPad to factory settings. After the restore process is complete, the iPad restarts.
Step 8
Choose "Restore from the backup..." to copy your settings, apps, documents, music and all other data to the iPad.