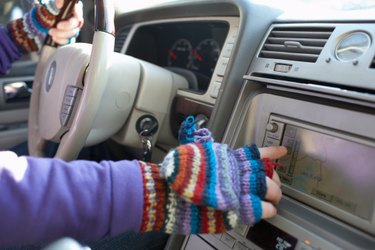 Many optional features and upgrades are available for Nissan vehicles, including a GPS navigation system. The system, operating with NAVTEQ maps, allows drivers to reach their destination efficiently by providing accurate turn-by-turn directions. Due to the frequent changes on city streets and highways, NAVTEQ releases a yearly map update that may be purchased on DVD. After inserting this DVD into the navigation system, the new maps are ready to use.
Step 1
Go to Navigation.com, and click "Buy Now" in the "Nissan Owners" box. Select your Nissan's model and year using the drop-down menus on the left. The newest map update is shown.
Step 2
Click "Add to Cart," then "Buy Now." Complete the order, and the update is sent via DVD.
Step 3
Locate your vehicle's navigation DVD drive. Depending on the vehicle's model, this may be in the center console, under the front passenger's seat, behind the driver's seat, in the trunk or in the upper glove box.
Step 4
Start the vehicle's ignition, and power on the GPS system. Insert the new map update DVD into the drive. Enter the authentication code provided with the DVD, if prompted to do so. The update process begins. Eject the DVD when the process has completed.
Tip
As of October 2010, updates are priced at $129.99.