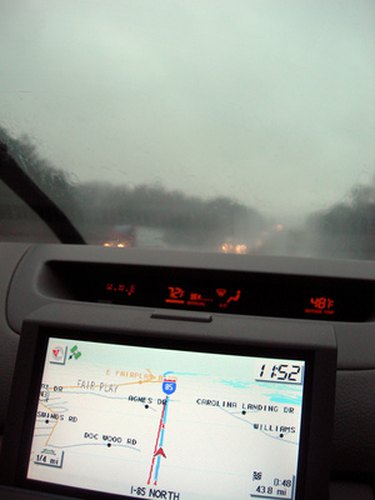 Omnitech is a brand that offers a line of affordable global positioning systems. Omnitech GPS systems plug directly into your cigarette lighter outlet and provide easy-to-follow directions to any destination. Omnitech gives you a clear view of the streets nearby to help guide you and reduce your chances of getting lost. Omnitech GPS systems are required to be updated every six months due to new roads and highways being built. Visit your local Staples store to receive a free Omnitech GPS update. Staples offers the most current updates for your Omnitech GPS.
Step 1
Bring your Omnitech GPS system to your local Staples store. Tell an associate that you wish to update your Omnitech GPS system.
Step 2
Turn off your Omnitech GPS device and remove your SD card from the side of your Omnitech GPS system. Press the release button on the SD card drive and pull the SD card out of the slot.
Step 3
Ask the Staples associate to put in an updated SD card into the SD card port. Once the card has been inserted, turn on the device. The power button is located on the top of the GPS system. The Omnitech GPS device update will begin automatically once the system has been turned on. Once the display screen reads "Update Successful," use a paper clip to push the reset button located on the back of the device. It looks like a tiny pinhole. The device will power down and reset once the reset button has been pushed.
Step 4
Remove the upgrade SD card and return your SD card to the SD card port. Press the power button to view the updated map.
Things You'll Need
SD card

Computer

Paper clip