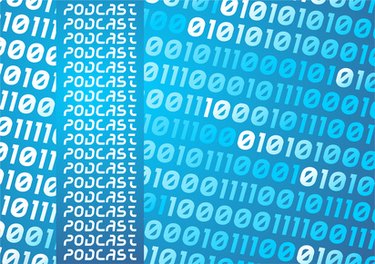 Podcasting is a new medium that allows people to generate news and radio-esque shows that can be listened to on the go. Subscribers to podcasts can start and stop them at any time, as well as choosing the episodes they wish to download. For people with iPods, podcasts are a popular way to get news or stay current with their favorite artists. iTunes makes podcasts easily accessible to everyone, so getting your podcast listed on the service will give you more subscribers than ever before.
Step 1
Open iTunes on your computer and go to the iTunes store. In order to submit a podcast, you must have an iTunes account, and you must be logged in. If you do not have an iTunes account, click on the button on the top right that reads "Sign in." Create your account and make sure you are logged in. Once you are inside the store and logged in, click the podcast link located on the top left side of the page. This link brings you to the podcast directory, where users can choose podcasts to subscribe to.
Step 2
Scroll down to the bottom of the page; under the heading "Learn More," click "Submit a Podcast."
Step 3
On the submission page, copy and paste your podcast feed URL. In order to submit a podcast, you must have an RSS feed with a publicly accessible URL. Then click "Continue," and if you have all of the iTunes tags in your feed, you will simply see a summary of your podcast. However, if iTunes cannot find <language>, <itunes:category>, and <itunes:explicit> tags in your feed, you will be led to a new screen for you to fill in this information.
Step 4
Wait for approval. Once you successfully submit your podcast, it will be reviewed by the iTunes staff before being published. If it is approved, you will be able to find it in the podcast directory on iTunes.
Things You'll Need
iTunes

Podcast with RSS feed

iTunes account
Tip
Check your RSS feed before submission by going to the advance menu in iTunes and clicking "Subscribe to a Podcast." Then paste your URL in the box and click "OK." If you see an orange circle next to your episodes, your podcast is being successfully downloaded; but if you see a gray circle with an "i" in it, your feed is not working properly.