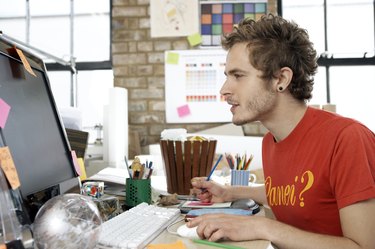 Uploading full-length movies and other large video files to the Web can be a challenge if you don't know where to look. Most of the popular video hosting sites, such as YouTube and Dailymotion, cap their video time limits around 15 to 20 minutes to conserve site bandwidth and thwart the illegal upload of copyrighted video. But the Web has some hidden video-hosting jewels that will let you upload full movies. Before uploading, make sure you legally own the videos or confirm they are free of copyright restrictions.
Step 1
Sign up for a free Zshare account to upload videos up to a gigabyte in size, or up to 500 MB in size without registration. Uploaded movies can be downloaded or played through Zshare's online video player. Zshare deletes hosted movies after 60 days of inactivity.
Step 2
Viddler lets users upload individual movies up to 500 MB in size and store up to 2 GB of video with an account. Viddler's customizable video player lets users change its color, add a custom logo and tag comments to points in the player's video timeline.
Step 3
Filedropper offers free uploads up to a gigabyte in size, though accounts aren't free. Click the "Upload" button to begin the upload process, and copy the download link after your movie has been uploaded. With no countdown timers or hidden download links, there's no hassle for your movie recipients to download your movie.