iPhones are the ultimate multitasking device. Camera, cell phone, email device, Web browser, texter, alarm clock—you name it—the iPhone has it as part of the package. Using the iPhone's camera feature is a handy way to take quick pictures on the go. While the iPhone doesn't have a flash, you can take great pictures with it. Transferring the pictures from your iPhone to your computer is reasonably quick and fun.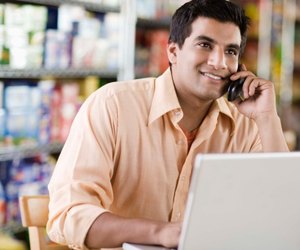 Step
Turn on the iPhone and touch the "Camera" icon. Take as many pictures as you wish.
Step
Attach your iPhone to your computer using the supplied connector cord.
Step
Wait for a computer icon to pop up letting you know the pictures are ready for uploading. The system automatically connects for you. There is no special upload icon to click. Name your picture folder, if prompted.
Step
Wait while the pictures upload to your computer.
Step
Delete pictures from the iPhone if you need to save storage space. You can set the camera to delete as a default whenever you upload photos.