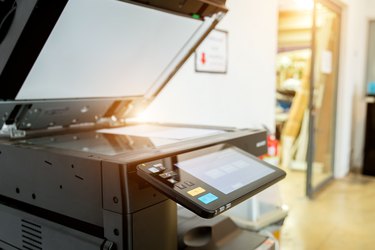 An all-in-one fax machine is a device that can print, scan documents and send faxes over a phone line. They're useful if you occasionally want to fax from home but don't want a device dedicated to faxing. If you want to fax without a landline, you can use the all-in-one device to scan a document and then fax it with an internet fax service. You can also use a special cellular fax machine to send faxes over the cellphone network, but most ordinary fax machines can't do this.
Sending a Fax
Most fax machines, including the all-in-one printers many people have at home, are designed to be plugged into a landline to send a fax. You don't need a dedicated landline to send the occasional fax. Just plug an existing phone line into the device and send your message, then plug it back into your phone if you don't have a spare jack.
You may be able to send a fax over a Voice Over IP connection, such as the ones many cable TV providers offer. Check to see if your machine supports that if you don't have a traditional landline.
Fax Without a Landline
If you have no landline or VoIP connection, you will have to get more creative. You generally can't hook a fax machine to a cellphone, so you won't be able to fax over the telephone network.
You can, however, use a variety of online services to send a fax without a landline or even fax without a fax machine at all. HelloFax and eFax are two of the more popular services, but there are others available at a variety of price points. Some offer subscription plans, some offer one-off faxing and many offer a mix.
Most will allow you to scan a document using your scanner or save a document on your computer, then upload it in a common format such as Microsoft Word or PDF. Scanning and printing should work normally on your all-in-one device with no phone line attached.
You then enter the number and the service will send the fax. Some also allow you to receive faxes for a fee.
In some cases, it might be simpler to email your document or send it with a text message from your phone if you don't have a fax line. You can also email the document to yourself or put it on a USB stick and take it to an office store with faxing services.
Wireless Fax Without Phone Line
Some fax machines are able to send data over cellular networks and send a wireless fax without a phone line. They generally have their own cellphone numbers and SIM cards similar to traditional cellphones.
You usually can't convert an ordinary fax machine into a cellular one. If you need to fax a lot and don't have a landline, this may be a convenient device to own.