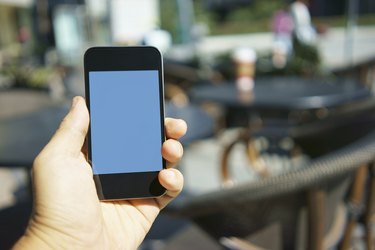 On-the-go business professionals can customize their iPhones with apps to more efficiently perform in a virtual office. In iOS 8, you can add colleagues to a discussion in three taps using the phone app. Alternatively, host a team conference call with third-party apps such as Free Conference Call, InterCall MobileMeet, Speek or Uber Conference.
iOS 8 3-way Conference Call Feature
The phone app has a built-in function to add up to five people to an existing telephone conversation. After calling the first person, ask him to hold and then tap the "Add Call" button. This automatically places your first call on hold. Place the second call, and then tap the "Merge Calls" button to connect everyone. Repeat the "Add Call" and "Merge Calls" process to add each person. You may add an incoming caller to your current call by tapping the "Hold and Accept" button to answer your call and then tapping "Merge Calls" to connect all parties.
You can manage your conference call through the phone app by tapping the "i" icon next to the person's name. Tap "Private" to hold a separate conversation or tap "End" to drop that person from the conference.
Free Conference Call App
FreeConferenceCall.com provides a free service that allows the business professional to set up a phone meeting for up to 96 colleagues and customers. Sign up and activate a free account to receive a unique dial-in number, meeting ID number and host PIN. You can host an unlimited number of calls at any time, with a maximum time of six hours per call. You can choose between using the Internet or your cellular network for the call. Stay connected in areas that are outside your mobile network or that have poor cell phone coverage by using a hot spot or connecting through your hotel's Wi-Fi.
InterCall MobileMeet App
Many companies provide their business professionals with an InterCall Reservationless-plus account. You can use the MobileMeet app by InterCall to host and manage conference calls from your iPhone. Set up your MobileMeet app by entering your conference ID number, moderator information and host PIN. Use the app to automatically start the conference and identify all participants.
Speek Conference Call App
Speek provides a conference call service that doesn't rely on phone numbers. Instead, you can set up an account for a unique Web link and send this link to meeting participants in a calendar request, email or text message. Colleagues and customers can click the link on their smartphones or computers to connect or enter a telephone number to receive a call back. As host, you can manage the conference call through the app or a Web page. Speek for Business allows unlimited usage and free audio recordings played back on the Web.
UberConference App
The UberConference app provides another conference call solution that doesn't require a telephone number or meeting codes. Once you set up an account, you can send a unique Web link to meeting participants through the app or in an email or text message. Attendees click the link to join the meeting or type a telephone number to receive a call back. You can use the app or log on to your account Web page for conference controls such as record and participant information, including social profiles. Pro and business accounts can host conference calls with up to 100 attendees.