IMovie 10 is Apple's free video-editing software that comes bundled exclusively with every new Mac. IMovie provides tools such as animations, transitions, effects and video stabilization. Use these in combination with your own photos, videos and music to create a captivating home movie or trailer.
Create a Movie
Step 1
Open iMovie and click New to begin a project. Select Movie from the menu. A window appears with themes you can choose for your movie. Selecting a theme automatically adds related animations and transitions for speed and consistency. If you want to proceed without a theme, choose No Theme. Otherwise, select your preferred theme. When you're ready, click Create to start the new project and give it a name.
Step 2
Click Import at the top to browse your Mac for photos, videos or audio. Click Import All if you want to import all the content in the current folder you're viewing. For most cases, simply select the specific files you want to import and click Import Selected.
Step 3
Click and drag photos, videos or audio clips of your choice from the project library to the timeline. Note that iMovie is split in half horizontally to separate the files for your project at the top and the clips in your movie toward the bottom. Hover your mouse over clips to skim through the movie in real time. To select a particular clip in the movie, double-click it. Drag the yellow handle on either side to trim it or drag the entire clip to rearrange the timeline order.
If you chose a theme, iMovie automatically adds beginning and end titles and places transitions in between clips when you drag them into the movie window. Double-click the transition icon before or after a clip to modify its duration or double-click a title in the timeline to customize it or type in your own.
Step 4
Customize the fine details of your movie by switching the Content Library view using the links at the bottom left of the iMovie window. Click Transitions to drag and drop transitions in between clips to remove any jarring visual cuts. Click Titles to display the various title formats, all of which are customizable. Drag and drop them into the timeline to add a new title at that location. Choose Maps & Backgrounds, which are customizable, to provide meaningful transitions in the movie, especially for movies related to travel. Choose iTunes to import music from your iTunes music library for use as background audio. Select Sound Effects to include extra built-in audio for added flair, or switch to GarageBand view to import songs you're working on in GarageBand for movie use. Click and drag an entire song or sound to the timeline, or click the green audio track and drag your mouse across it to select a specific portion.
Step 5
Use the toolbar above the movie preview to access options for editing the audio and video components of the movie. The Color Balance and Color Correction tools include options for adjusting and perfecting the color of your video like brightness, saturation and white balance. The Cropping tool has rotating and zooming options. Stabilization reduces shakiness in an unstable video. Volume can automatically adjust volume to an appropriate level based on your preference. Noise Reduction and Equalizer reduces background noise and includes some preset EQ effects. Speed can slow down, speed up or reverse the clip. Video and audio effects add an extra layer of customization with 20 possible video effects and 20 audio effects. Finally Clip information details the title and duration of the current clip.
As a bonus, clicking Enhance directly above this toolbar analyzes the clip and adjusts the aforementioned settings to automatically improve the overall quality.
Step 6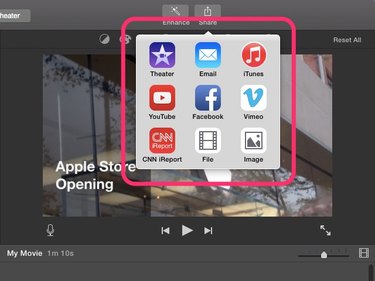 Click Share to export the movie file when you're finished with your project. Select Theater to add the project to iCloud and enable accessibility on all your iOS devices or choose a social network to publish directly to that service. To keep the movie for yourself, click File and browse for a location on your computer to save it. Click Image to create a screenshot of the current frame and save it as a photo.
Create a Trailer
Step 1
To create a movie in the theme of a trailer, click New to start a project and select Trailer. IMovie has completely separate themes for trailers. Choose a trailer theme while paying attention to how many cast members it supports underneath. This depends on how many people are in your videos. Click the Play icon to preview any trailer, then click Create when you've selected a theme.
Step 2
Click Import to browse your computer for photos or videos. Click Import All or Import Selected as needed. The trailer supplies the background music so audio customization is unavailable.
When you import your media, you're taken to the Outline tab first. This is where you fill out the name and date, your very own studio name and credits for your trailer. Click each field to type in a replacement for the placeholder text.
Step 3
IMovie trailers have two viewing modes: Shot List and Storyboard. Shot List informs you of the types of photos or videos needed to fulfill the trailer, such as head shots or action shots. Storyboard organizes all of these in chronological order in sync with the trailer itself. You can also edit titles in Storyboard mode by clicking them above each section of clips. To add clips to the Storyboard or Shot List, click a placeholder image and then click the clip in your content library to fill that portion for the given duration.
Step 4
Use the video and audio editing tools to edit the movie to your liking. When your trailer is complete, click Share to export the video as a file or to a social network.
Tip
To import photos from your iPhoto library, it's best to open iPhoto separately. Then, click and drag the photos to your iMovie project.
Customize the width of movie clips in timeline view using the slider.
Advanced editing options are available in the menu bar under Modify, which includes Detach Audio, Split Clips and Add Freeze Frames, but these aren't usually needed in quick or intermediate projects.