With recent upgrades to Facebook, you can now do much more than contact and connect with friends. You can also advertise and create classifieds for things you are trying to market or sell. The new Facebook Marketplace gives you the ability to create a classified ad to rent our your apartment. Creating the ad only takes a couple of minutes, and it can be posted to the site in minutes.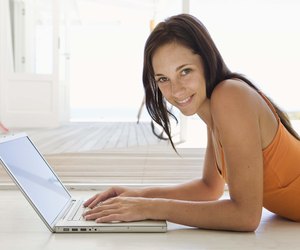 credit: Jupiterimages/BananaStock/Getty Images
Step
Go to the official Facebook website, and log in to your Facebook account.
Step
Type "MarketPlace" into the blank search bar, and click the magnifying glass icon on the right side of the form.
Step
Scroll through the list of search results, and click the "Marketplace" application link.
Step
Click the "Post a Listing" option link in the upper-right corner of the MarketPlace classifieds table that will appear.
Step
Use the drop-down bars that will appear in the pop-up window to provide your current location, and a category for the classified. Give the location where the apartment is located, and select "Rentals" for the listing category.
Step
Click the drop-down bar next to "Subcategory," and select the "Apartments" option.
Step
Type a name for your apartment rental listing in the "Title" data form. The title of the classified advertisement should be direct, concise, and simple. Get straight to the point, and say what the listing is for.
Step
Provide a brief explanation as to why you're renting it out. Although not required, an explanation can be quite beneficial to potential renters.
Step
Type a brief, detailed description of the apartment, its monthly rental cost, location, community amenities, floor plan, approximate square footage, and any included appliances or utilities.
Step
Click the "Browse" button at the bottom of the listing to add pictures for the apartment rental listing.
Step
Click the "Submit" action at the bottom of the listing to post it to the Facebook Marketplace. The listing will appear on your profile page, in your mini-feed, and in the Facebook marketplace. In some cases, the listing may also appear on Oodle.com, the classified site that is the powering source for the Facebook Marketplace application.