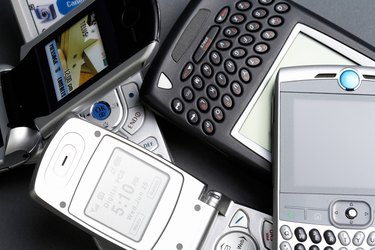 You can access the Internet from your PC on your cell phone via the Bluetooth connection. This option helps you avoid extra Internet fees from your mobile phone provider and allows you to add applications, address-phone contacts and other Internet data to your phone.
Step 1
Turn on the cellular phone and enable the Bluetooth setting. Go to the "Settings" menu and choose "Discoverable" mode.
Step 2
Go to the "Start" menu and open the "Control Panel" on your computer. Double-click "Bluetooth Devices."
Step 3
Click "Add Bluetooth Devices," the computer's Bluetooth will start searching for active devices. Wait for the cell phone to be detected.
Step 4
Click on the pop-up balloon that appears on the bottom task bar to pair both the devices. The prompt will ask for the pin code. Enter the digits "0000," "1234" or "8888," as most devices use these pin codes by default. If the device does not accept the codes, you need to review your cell phone manual.
Step 5
Go to "Start," "Control Panel" and select "Network and Internet." Choose "Set up or change your Internet connection." Click the "Connections" tab and choose "Setup."Choose "Setup a dialup connection" and wait for the wizard to start.
Step 6
Choose "Standard Modem over Bluetooth" as the connectivity option. In the Dial-up phone number box type "*99#." Type the user name as "web" and the password as "web." Give your connection a name and click "Next." Wait for the connection to complete and start surfing the web.
Step 7
Go to "Start" and "Connect to" option and choose the newly named network when you want to connect the Bluetooth connection in the future. Click "Dial" when the dial-up window appears, and start surfing the Internet on the phone.