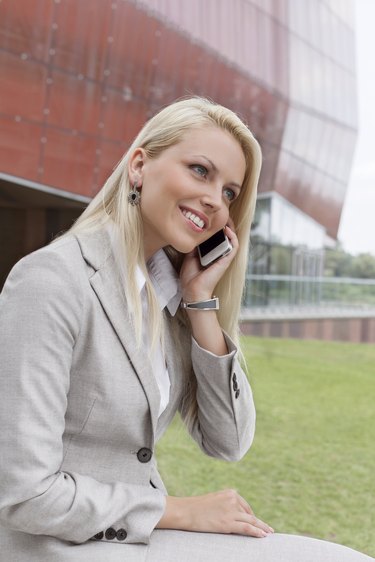 Using Wi-Fi for voice calls on your iPhone is especially useful for international calls, since you can avoid expensive long-distance rates. With apps such as Skype, Viber or Tango, you can connect and make a voice call if you are both connected to a Wi-Fi access point. While Apple has announced that Wi-Fi calling is a feature for iOS 8 and later versions, the support of this feature is at the discretion of the cellular provider. Until the native feature is enabled and guaranteed to be widely supported your best options are VoIP (voice over IP) applications.
Use Skype
Skype is one of the most widely used and recognized VoIP applications. There are versions of this app for PC, Mac, iPhone, Android and many other devices, which makes it an ideal choice to use for Wi-Fi calling. If your contact has Skype installed on his phone and you are both connected to Wi-Fi, then you only need to tap the name in the Skype app screen to start a call. Skype also allows you to call a landline or another mobile phone. In this scenario there is a fee; however the fee is typically much less expensive than a direct international call.
Use Viber or Tango
Viber and Tango are VoIP applications that are widely supported on smart phones, including iPhone, Android and Windows phones. Both applications work similarly and the use of either depends more upon your personal preference or which application more of your contacts are using. In order to make a call using either application, both you and your contact must have the same app installed and you must be connected to Wi-Fi. All that is required is to tap the contact name and start a call from the Viber or Tango application screen. These apps are free and do not charge for calls over Wi-Fi.
Use Truphone
Truphone is an application and service more similar to Skype than other VoIP applications in that it also allows you to call landline and mobile phones locally and internationally for a small fee. The fee schedule, like Skype's, is typically much less expensive than the international rate from your cellular carrier. Truphone also has a service that may allow you to obtain a SIM card for your mobile phone that will work as a native phone in the country you may be visiting. This could be an attractive feature for business users or anyone traveling for an extended period who could use a local phone number.
Native iOS 8 Wi-Fi Calling
Apple has announced native support for Wi-Fi calling from the iPhone starting with iOS 8. The feature will be included in iOS 8, however the support and use of the feature is at the discretion of the cellular provider. As of July 2014, the only U.S. cellular carrier that has enabled this feature is T-Mobile. While there is a hope more carriers will also enable this, you will need to contact your carrier or visit the website to determine if you can use this feature.