With Yahoo! Messenger, you can chat with your buddies all around the world for free. Besides using Messenger to send instant messages, you can also use it to video chat if you have a webcam and microphone on your computer. Video chatting on Yahoo! Messenger allows the person you are chatting with to see and hear you in real time. If your buddy also has a webcam and microphone on her computer, you can see and hear her as well.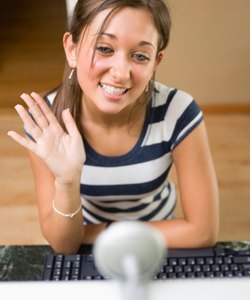 Step
Open Yahoo! Messenger and log in to your account.
Step
Locate your buddy's name on your Yahoo! Messenger contact list and right-click on it.
Step
Select "Start Video Call" from the drop-down menu that appears.
Step
Wait for Yahoo! Messenger to call your buddy's computer. You and your buddy will hear a ringtone while Yahoo! waits to connect.
Step
Start chatting with your buddy through your microphone or by typing her a message once she accepts the video call request.
Step
Click the "End Call" button in the Yahoo! Messenger conversation window when you want to stop video chatting.