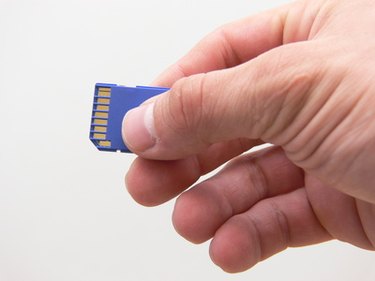 The standard "SD memory" card's smaller cousin, Sandisk's "MicroSD" card, transfers information between computers and compatible mobile devices. If you've just purchased one of these devices and want to know how to view the contents of your MicroSD card, you'll be happy to know that the process is as simple as inserting the device into one of your computer's ports and opening its folders. Prior to inserting the card, however, you'll need to make sure that you have the proper adapter.
Step 1
Sheathe your MicroSD card in the adapter that came with it, as the card itself is too small to fit into your computer's card reader.
Step 2
Insert the apparatus into your computer's card reader. Open "My Computer" (the "Finder" on Mac) and locate your card, which will display underneath your main hard drive and optical drives, such as CD and DVD drives. Double-click on your drive.
Step 3
Browse through all the folders to view, delete or modify the contents of your card. Add information and media by dragging and dropping.