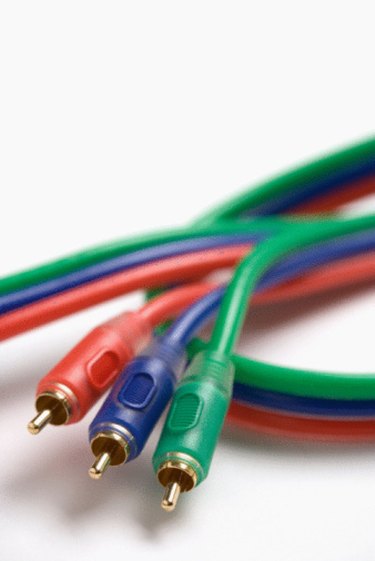 A Slingbox is a device that connects to your home video sources such as cable or satellite receivers and DVRs and allows you to view content from those sources anywhere with an active Internet connection once connected to your home high-speed Internet network. A Slingbox also offers video outputs to connect to your TV, providing additional viewing options which can include watching on two or more different TVs with the proper components and connections.
Step 1
Connect your home video source components -- such as a cable set-top box, DVR or DVD player -- to the Slingbox using the type of cables supported by your particular equipment. Input options vary with each Slingbox model, and can include HDMI, component video, coaxial and composite RCA, with the option to substitute an S-video cable for the yellow composite video cable.
Step 2
Hook up the Slingbox to your TV using one of the types of cables offered as a video output option on your particular Slingbox, which will be either component, composite RCA, S-video with composite audio or a coaxial cable. Attach the cables from the designated output on the Slingbox to the matching input on the TV.
Step 3
Connect the Slingbox to a second TV, if you have a Slingbox PRO or PRO HD that offers multiple outputs and you want to connect two TVs directly, using one of the remaining output options.
Step 4
Run an Ethernet cable from the router of your home Internet network to the Ethernet input on the Slingbox. Install the supplied Slingbox software on a computer in your household and follow the on-screen instructions to configure the computer to the Slingbox.
Step 5
Connect the computer to a TV using the type of cable supported by both devices, which will likely be either HDMI, VGA or S-video. The video signal from that computer can then be sent to the TV. Take any steps necessary with your computer to send the signal to an external monitor.
Step 6
Turn on the TVs and set their input settings to the input the Slingbox or computer is connected to in order to view content from the Slingbox on the screens.