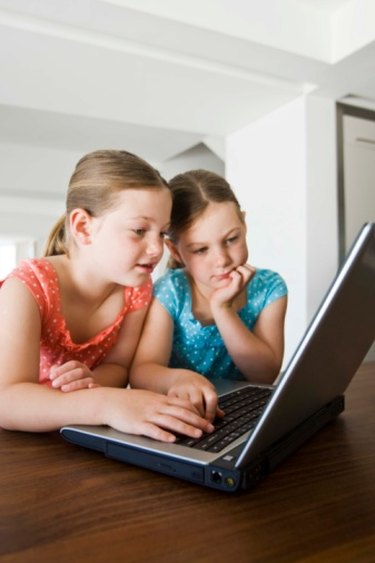 Computer software provides instruction to the physical parts of the machine so the components know how to operate and work together. Software is also known as programs, applications, procedures and computer code. Computer software is based on hardware criteria; what may work on one type of machine does not necessarily work on another. Some types of software are installed when a computer is built and are critical for the machine to operate. Other software can be purchased separately or downloaded from the Internet, and added to the computer at any time.
Operating System
The most important software on a desktop or mainframe computer is the operating system. Think of this software as the driver behind the wheel of an automobile. Operating system software manipulates how data is displayed on a computer, serves as a tracker for files and programs, verifies that both hardware and software components work together efficiently and controls peripherals like printers, CD drives and headphones. The most used operating systems include Microsoft Windows, Mac OS X and Unix.
Office Production
Many businesses use various types of office production software. Intuit's QuickBooks tracks invoices and expenses while reconciling costs against the current budget. FileMaker Pro is a versatile database management system that works on Windows, Mac and the Web to track client and employee information. Many organizations purchase a suite package that contains everything their employees need to run an efficient business. Both Microsoft and Apple offer packages with word processing, spreadsheet, database and presentation software. For smaller businesses on a tight budget, OpenOffice is free and downloadable from the Web.
Entertainment
Many consumers purchase high-powered computers with the intention of using them for entertainment. There is a plethora of computer games available for senior citizens, adults and children. Video game manufacturers like Sony and Microsoft have tapped into the market as well, offering the capability to connect computer and video machines so you can play with or against other users online. Free or pay-per-play videos are available through YouTube, or you can pay a nominal monthly subscription fee to Netflix and watch movies online.
Protection
Computer security has become an issue of concern since the invention of the Internet. It is important to install security software to protect both the hardware and software on your computer from hackers and viruses. Your first line of defense is the computer's firewall, which can be thought of as a brick wall between the World Wide Web and your computer. Since hackers live to infect your computer with viruses, it is important to purchase sufficient software to protect your machine -- and to update it regularly. Many manufacturers like McAfee, Norton and Kaspersky offer anti-virus, anti-spyware protection for an annual price. This security software scans files, memory, CDs and flash drives.