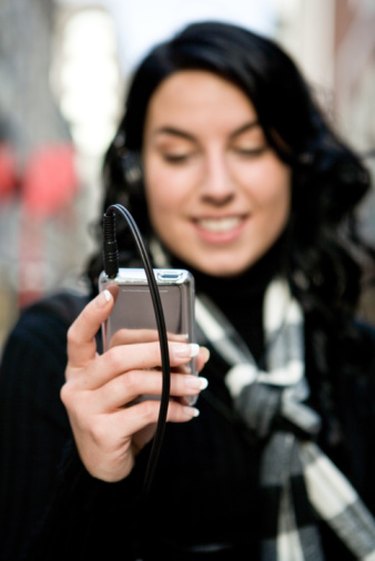 Pandora is a website that creates a personalized playlist for you based on your initial input of your favorite bands, and helps you discover music you may not have heard. The customized playlist becomes more personalized as you rate each song played with a "thumbs up" or "thumbs down." You may want to remember all the songs played or add them to your own music player's playlist. To do this, you can look up the last hour of songs played in your Pandora history.
Step 1
Open your web browser and go to Pandora.com.
Step 2
Log into your account or create a new account. Click "register" in the upper right of the screen next to "log in" if you need to create an account. Creating an account requires your e-mail address and a few other details to complete the simple registration form.
Step 3
Click the "Create a new station..." button near the top of the window, if you do not have any stations created. Enter an artist or a song in the window that appears. Pandora will create a stream of music for you that is similar to that artist or song. A window will appear telling you it is creating a station for you. If you entered the wrong information, you can cancel this with the "Hey, that's not what I wanted" button on the bottom right and start over.
Step 4
Select the station you want to stream from the "Your Stations" list on the left side of the window to start streaming music. However, if you just created a new station you will notice Pandora starts streaming that new station automatically.
Step 5
Browse backwards in your history by clicking on the blue left arrow button on the left side of the screen and forward by clicking the blue right arrow button on the right side of the screen. As you click, the songs will scroll left or right across the window. One song scrolls per click, so you do not have to worry about songs scrolling too quickly.