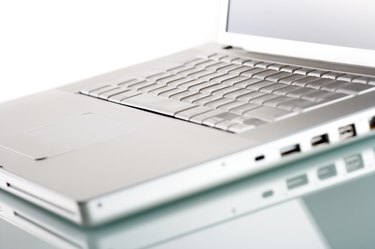 The MacBook model A1278 provides a great option if you want a lightweight computer that won't weigh you down while traveling. The model number applies to both MacBook Pro and standard MacBook computers. Minor differences exist between the various models, but all versions support running Mac OS X Mavericks.
Early Models
The MacBook A1278 line of laptops used to have two divisions -- a MacBook model and a MacBook Pro model. Apple released the last version of the basic MacBook model in 2009. Since then, Apple limited production of the A1278 line to the MacBook Pro. Apple made many enhancements to the original MacBook line. Some major additions included a built-in battery, enhanced FireWire capability with a single backwards-compatible FireWire 800 port and an SD card slot.
Appearance
The MacBook Pro line of computers includes a striking aluminum unibody case. Apple creates a casing from a single piece of milled aluminum. The computer also comes with a multitouch glass trackpad, a built-in non-swappable battery that supports up to seven hours of battery life and a widescreen glossy display. The display supports up to a 1280 x 800 native resolution, with a 720p FaceTime HD webcam built directly into the monitor. A backlit keyboard rounds out the look by providing a stylish and practical option when using the computer at night.
Storage and Memory
The mid-2012 MacBook Pro came with several storage options. By default, the computer included a 750GB, 5400 RPM hard drive. Custom configurations provided support for up to a 1TB hard drive. Users could also select from various SSD drive options including a 128GB, 256GB or 512GB drive. For external storage, the computer included support for Bluetooth, Ethernet, FireWire 800, two USB 3.0 ports, Thunderbolt and an SDXC card slot. The MacBook also officially supports 1600-MHz PC3-12800 DDR3 RAM modules up to 8GB.
Graphics and Processing Power
The graphics card and the processor and a computer provide the computing resources necessary to run applications and render graphics. The graphics card comes with a standard (and maximum) video memory of 768MB. The MacBook Pro includes a 2.9-GHz Core i7 processor that uses the Turbo Boost feature to increase processing power up to 3.6 GHz when needed. The Turbo Boost option allows the computer to increase battery life by using the increased speed only when necessary.