If Microsoft Outlook isn't responding or opening, you can access it by executing a few simple steps. A lagging or inaccessible Outlook is a typical problem for most users. Usually the inaccessibility of Outlook stems from a corrupt or damaged application file; certain files prevent Outlook from opening. Fortunately, fixing an unresponsive Outlook program doesn't require much work or knowledge.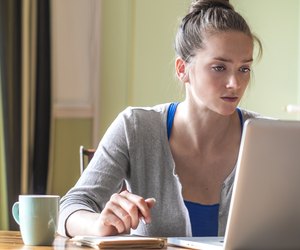 credit: red_pepper82/iStock/Getty Images
End Process
Step
Press the Shift, Ctrl and Esc keys to open the Windows Task Manager.
Step
Open the "Processes" tab. Rummage the processes list to see if the Microsoft Outlook process is running. If it is, click the process.
Step
Click "End Process." Exit the Task Manager.
Delete OUTCMD.DAT
Step
Press the F key plus the Windows key to open the Windows search box.
Step
Type "OUTCMD.DAT" in the "Search" dialog box. Press Enter.
Step
Right click the "OUTCMD.DAT" file. Click "Delete." Open and empty the Recycle Bin. Reboot your computer.