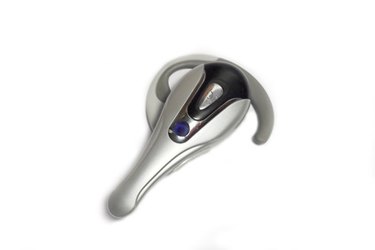 A Jabra BT350 is a Bluetooth headset. The headset combines a headphone with a microphone, and is placed over the ear. Once paired, or connected, to a cellphone, the headset creates a hands-free way to speak on a cellphone. The device is powered by a rechargeable cell battery. If the battery won't charge, troubleshooting can help determine whether the battery or charger is not working.
Step 1
Insert the charging cord into the charging socket on the bottom of the Jabra BT350.
Step 2
Plug the charging cord into a power source. Depending on which charging cord you are using, the cord can be inserted into a computer USB port or an electrical outlet. If using a computer USB port, turn the computer on for power.
Step 3
Look at the LED light above the "Answer/End" button. If the LED light is red, the device is charging. If there is no illuminated light, the device is not receiving power. Try a different electrical outlet or USB port for power. If the device is still not receiving power, the charging cord is not working correctly and should be replaced.
Step 4
Remove the charging cord from the Jabra BT350 once the charging light turns green. This means the battery is fully charged.
Step 5
Call Jabra support at 1-800-327-2320 if the battery still won't charge.