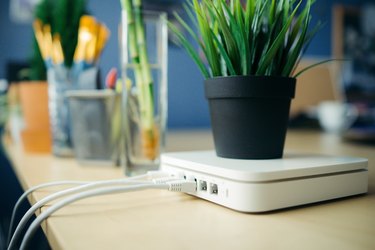 2Wire was acquired by Arris in 2016, but these DSL routers are still in use in many households today. It can be very frustrating if your 2Wire router stops working. You can typically fix most problems with a 2Wire router simply by troubleshooting the specific cause.
Power Light Issues
One of the most common problems with a 2Wire router is that the router goes into Power Cycling mode. This happens when the power light starts flashing green. Your internet connectivity is lost while power cycling occurs, so this can definitely be an inconvenience. The 2Wire router should finish power cycling within a few minutes. If yours does not stop blinking, try performing a soft reset of your 2Wire router by unplugging the power cable from the back of the router and the outlet that it's plugged into. Keep it unplugged for a minute and then plug it back into another outlet to rule out that your previous outlet isn't the problem. Wait a few minutes to see whether the 2Wire router's power light turns solid green, which means that your router is working again.
Your 2Wire router may also show a flashing orange light. This means that the router is getting a software upgrade. Wait from 10 to 15 minutes to allow the upgrade to download and install. Typically, if your power light is red, that means that the 2Wire router or the power adapter has failed. The 2Wire power adapters aren't sold separately, so you'll need to replace the 2Wire router unit if the red light is showing.
DSL Failure
Another potential problem with your 2Wire router is DSL failure. This occurs if there's a problem with the DSL connection, due to either a faulty cable or problems with your DSL company. Your 2Wire router's DSL light will blink green or red if there's an issue with the DSL connection. You can troubleshoot this by checking your phone lines to make sure they have a dial tone. If they do, this tells you that the problem is most likely with your cable or phone jack that the modem and router are plugged into. Try a different phone jack to see if the DSL light stops blinking. If it doesn't, you'll want to contact your DSL provider to have them repair the signal.
Authentication Failure
The internet light on your 2Wire router will turn red or just not be lit up at all if there's an issue with your internet service provider's (ISP) servers. You can fix this, but you need to know if your connection is DHCP or PPPoE. If it is PPPoE, then you also must know your username and password for your ISP account. Go to the 2Wire router page on your computer at 192.168.1.254 and log in to the router with the router username and password. Type in the username and password that were assigned to your ISP account in the PPPoE section. If you don't know this information, you can contact your ISP for assistance.
Enable UPnP on AT&T Router
If you enable UPnP on your AT&T 2Wire router, then you can have ports automatically forwarded for your devices. This means you won't have to manually set up port forwarding for online gaming with devices like the Xbox and PS4 as you may have had to in the past. You can enable UpnP on your 2Wire router by logging in to your router settings at 192.168.1.254 and clicking the "Advanced" tab. Click "Advanced Setup" and then select "UPnP." Check the box next to "Turn UPnP" on and then click "Apply" to enable it.