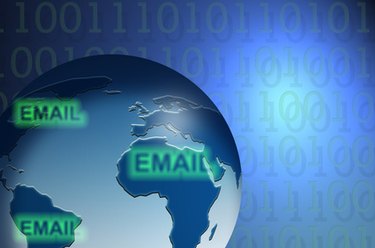 Sending a document that is not saved on your computer through email can be confusing if you've never done it before. It is as easy as attaching any document and sending it and can be done with a free email service provider. With a few clicks, your document can be sent and will be stored in your "Sent mail" folder for future reference.
Step 1
Place your document face down on the scanner bed. Press the button that starts the scanning process depending on your scanner or printer.
Step 2
Save the scanned file to your computer by clicking "File" in the menu bar at the top of the screen, then choose "Save as." Choose the folder in which you wish to save the document from the drop-down menu in the window that popped up during the saving process. Choose a name for the document, then click "Save."
Step 3
Sign on to your email account, then choose "New" or "Compose" to start a new email message. Click on "Attachments" or "Attach." Wait for a new window to pop up, then choose the file you scanned from the folder where you saved the document.
Step 4
Wait a few seconds for the file to attach, compose your email message, then click "Send." Your scanned document will now be sent to the recipient's email address.