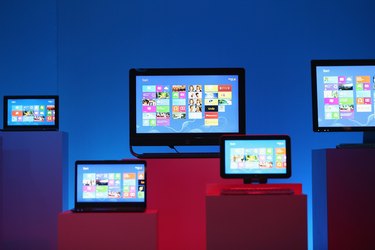 Unlike a Windows desktop program, the Facebook app is not on the list of programs in the Programs and Features section of the Control Panel. To delete the app from your computer, you need to remove it from the Windows 8.1 Start screen. Instead of deleting the app, you can also consider signing out of Facebook or changing the preferences from the app's Settings menu to avoid intrusive notifications and updates.
Delete the Facebook App
Like all apps from the Windows Store, you can access the Facebook app by opening the Start screen -- unless you have already pinned the app to the taskbar. Press the "Windows" key to open the Start screen, then type "Facebook." Right-click "Facebook" from the Results bar, then select "Uninstall." Click the "Uninstall" button to remove the app from your computer. If you pinned the Facebook app to the taskbar, the deletion process also removes the app icon from that location.
Manage Facebook Notification Preferences
According to the Windows Store, the Facebook app is approximately 15.6MB. Because of its relatively small size, leaving the app on your computer would not hog system resources or affect your machine's processing speed. Unless you need the room on your hard drive, changing the app's notification preferences or simply logging out is an alternative to removing the app if it becomes too distracting. Launch the Facebook app, press "Windows-C" to open the Charms bar and then click "Settings." Select "Notifications" to manage the app's notifications or select "Log Out" to log out of the app.
Other Considerations
Although it is possible to remove the Facebook app from your computer, anyone can still access Facebook through your Web browser. To prevent specific users from accessing the website, add the Facebook URL to the Microsoft Family Safety -- a native program and website that manages the activities of your computer's users -- Allow or Block list. To activate Microsoft Family Safety, open the Accounts section of the PC Settings menu, then select the account that you want to manage.