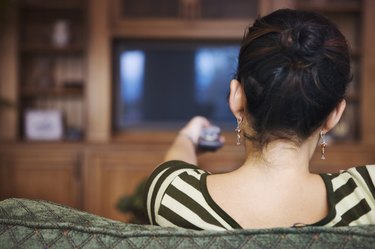 DIRECTV receivers connect to your television, allowing you to access hundreds of channels featuring movies, shows and music. After connecting the television to the receiver and mounting the satellite dish on your roof, you need to activate the receiver before it will work. DIRECTV lets you activate the receiver online or over the phone.
Set Up the Receiver
Before DIRECTV activates your service, you need to set up the receiver and satellite dish. Mount the satellite dish on your roof in a spot with a clear view of the southern sky. DIRECTV receiver setup differs slightly based on your particular model, but in general, connect an RG-6 coaxial cable to the Satellite In jack on the back of the box. Connect the telephone cord to the Tel Line jack. Connect your television's cables to the appropriate jacks. For example, if your TV has a single S-Video cable, connect it to the S Video jack. If the TV has A/V input jacks, connect the red, yellow and white jacks to the Video, Left Audio and Right Audio jacks. Write down the access code number. Slide the access card into the slot on the front of the receiver to complete setup.
Activate Online
After you complete receiver setup, DIRECTV allows you to activate the receiver online. To do this, open an Internet browser and navigate to the DIRECTV website. Click "My Account" in the upper-right corner of the window. Click on the "My Equipment" tab. Click the "Update" button next to your receiver's name. The receiver's name is usually DVR or Standard. Type the access code number and model number of the receiver. Enter the receiver ID. To find out your receiver's ID, open the access card door panel and look for a sticker inside. The receiver ID is written on the sticker.
Call DIRECTV
If you cannot access the Internet or the DIRECTV website, DIRECTV customer service will activate your receiver over the phone. Call customer service at 1-800-531-5000. DIRECTV offers general support from 8 a.m. to 1 a.m. (EST), seven days a week. They offer technical support 24 hours a day, seven days a week. When you call, have your receiver ID, model number and access card number ready.
Activate a Used Receiver
DIRECTV lets you activate a used receiver in certain circumstances. If the receiver has no receiver ID, you cannot activate it. A receiver without an ID is too old to work with current DIRECTV service. The receiver must have been owned, not leased. It must also not be active on a different DIRECTV account. If you think that your receiver meets these conditions, call DIRECTV customer service. To activate the receiver, you need to order a new access card for $20. After installing the receiver and new access card, call DIRECTV again for activation. Let customer service know that you have a used receiver.