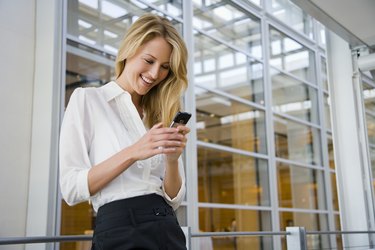 MetroPCS, a discount mobile service provider, offers flashing services to its customers and potential customers. Cell phone flashing is the process of removing the programming for one mobile service provider and replacing it with another company's programming. Using a USB cable and specialized software, MetroPCS installs its own software on the handset. Then the company activates the handset to the network and you can now use the phone on the MetroPCS service.
Step 1
Login to your Sprint PCS account from your computer's web browser. Click "My Online Tools" and then click "Sprint Mobile Sync." Open the Export Contacts application. Name and save the backup file to your computer's hard drive.
Step 2
Locate the nearest MetroPCS store. Take your Sprint PCS cell phone into the store. Explain that you want to switch from Sprint PCS to MetroPCS and need to have your phone flashed and activated. Pay the associated fees.
Step 3
Press "@MetroBACKUP" from the new programming on your cell phone if available. Follow the screen prompts to set up a new account. Login to your MetroPCS account from your computer's web browser.
Step 4
Access the import contacts application. Follow the screen prompts, including locating the backup file you created in Step 1 and uploading it to your account. Click "Update Phone" from the web browser to synchronize your newly uploaded contacts to your phone's address book.
Step 5
Call Sprint PCS to cancel your account. Cancellation fees may vary depending on your account status.