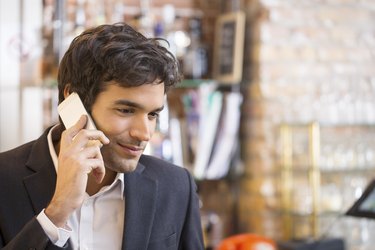 Wireless providers Verizon and Sprint have coverage both within the United States and abroad. Good coverage means a combination of reliability and speed for voice, data and text. Coverage will vary based on your region, the type of area in which you live and whether your cell phone supports 4G.
4G
4G is the evolving industry standard for cell phone networks; the standard sets the requirements for download speeds, among other things. The goal is to increase download speeds 100 times by 2016. When this standard is met the technology will be deemed 4G LTE Advanced or LTE-A. Unfortunately lack of regulation has allowed carriers to advertise that their network is 4G or LTE and many times faster than the previous 3G standard, which is an exaggerated claim. According to a TechHive May 2013 benchmark test, 3G download speeds at ranged from .40Mbps to 3.13Mbps to across the carriers, with Verizon delivering .80Mbps and Sprint the lowest at .40Mbps. Download speeds for 4G ranged from 13.15mbps to 4.32mbps for Sprint; Verizon had a speed of 9.61mbps. Note that to take advantage of the highest download speeds, you must have a 4G phone.
Verizon vs Sprint Speed
According to a PC Magazine test in 2013, Verizon maintained higher speeds than Sprint nationally, with Verizon LTE obtaining an average Mobile Speed Index score of 89 as compared to Sprint LTE's score of 44. The Mobile Speed Index combines the results of average and fastest download and upload speeds, average time to first byte, average Web download speed, percentage of Web page completion and the percent of 500 Kbps streaming success. Results varied considerably across the country, but in all regions Verizon came out the winner. However Sprint has upped the ante with Sprint Spark; at the time of publication, Sprint claims to offer 50 to 60 Mbps speeds, with the promise of increasing speed over time. As of this publication, Sprint Spark is available in more than 20 markets. Not to be outdone, Verizon introduced XLTE available in well over 100 cities; Verizon claims XLTE doubles the bandwidth by adding the AWS 1700 MHz spectrum to its previous 700 MHz band spectrum. Adding this new spectrum will essentially relieve Internet congestion at peak intervals, allowing for faster speeds.
Verizon vs Sprint Reliability
Reliability, the metric that determines how often and well you connect to the cellular network, is the other element needed for complete coverage. According to a Root Metrics report for the second half of 2013, Verizon also outscored Sprint by a large margin in data performance and call performance. Text performance is close. Rootscore uses a scale from 0 to 100 to report its findings. On the data performance test, Sprint scored 51.2 as opposed to Verizon's score of 87.3. Call performance results were 91.1 for Verizon and 79.6 for Sprint.
Sprint and Verizon International Coverage
Sprint and Verizon both offer global coverage through other carriers, as neither company has its own towers abroad. Because of this, making calls can be expensive. Verizon offers monthly voice plans with data or a data plan based on how much data you use. Both of these plans save money over pay-as-you-go plans. Sprint has International Data Pack Add-Ons for a monthly fee as well as voice plans which drop the per-minute rate. Be sure to check with your carrier to make sure your phone supports global networks and confirm any requirements to prepare your phone for international operation.