With 60 million users and 50 billion page impressions every month, Craigslist maintains a vibrant, active online community filled with job ads, discussions, classifieds and personals. With so many people making use of the lightly moderated system, it's inevitable that people will use slang and acronyms in their posts. Many common acronyms -- for example, AA -- can mean different things in different situations. The Craigslist community does not maintain an authoritative dictionary of common terms, so you'll need to read the post or ad in its entirety to infer the abbreviation's context.
Most Likely References
In job ads, AA may mean either Associate of Arts or administrative assistant. For locations, AA most likely refers to Ann Arbor, a Michigan city and home to the University of Michigan, that features its own Craigslist city listing. In personal ads, AA often means African American, although it could also refer to Asian American. For residential or rental listings, or social-group posts, AA may mean Alcoholics Anonymous. In the context of product sales, AA could refer to all ages for products, such as board games, that might otherwise be targeted to specific age groups. In discussion threads, AA could also mean adios amigo.
American Airlines is also called AA, as is Alcoa, Inc. (Alcoa's stock ticker on the New York Stock Exchange is AA).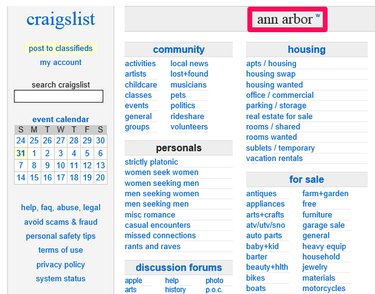 Search Sites