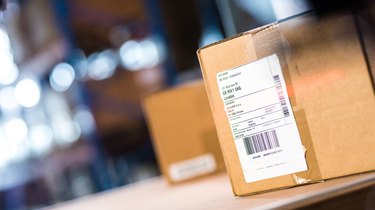 Amazon.com can be a shopper's nirvana for deals and discounts. While most of the items sold on Amazon are listed as being in new or unused condition, you can occasionally find a product that is labeled "open box." This designation may sound confusing, but at Amazon.com, the meaning depends on whether the item is sold by Amazon or by a third party.
Amazon Warehouse Deals
The Amazon "Open box" from Amazon's Warehouse Deals division offers Amazon like-new, used or refurbished items at a discount. These items may have been returned by a buyer, or the packaging may have been damaged in the warehouse. Amazon Warehouse Deals products are in good condition and verified to be functional, but they simply aren't new. Because of Amazon's strict standards regarding the condition and function of the items they sell when you buy an Amazon open box product, a product that doesn't work will not be sold, regardless of its cosmetic condition.
Returns or Damaged Packaging
The Amazon "Open box" at Amazon Warehouse Deals usually refers to an item that was shipped to a customer but then returned as undeliverable by the carrier. The packaging may have been opened by Amazon staffers to verify that the item is in good working order, and the item may have been repackaged if the original packaging was damaged, but the item itself will not have been used. In the case of package damage, Amazon will not replace damaged packaging unless the original packaging no longer provides adequate protection for the item inside. If a product's packaging is too far gone to be salvaged, Amazon will repackage the item.
Third Party Sellers
The second, slightly fuzzier definition of "open box" on Amazon.com applies to an open box purchase from a third-party seller through Amazon's storefront. Amazon has a set of guidelines in place for labeling product condition ("new," "like new," "very good," "good," "acceptable" and "unacceptable") that third party sellers must follow, but the phrase "open box" applies officially only to computer games and software. In those cases, the item may be out of its original wrapping and may be missing its original case and UPC symbol, but the software itself must function perfectly, and the packaging, instructions and discs are further categorized according to the condition guidelines. For products that aren't computer software or games, the term "open box" is defined by the seller, so the definition may vary from Amazon Warehouse Deals.
Check Before You Buy
Amazon recommends that you contact any third party seller that lists an item as "open box" to confirm what the term means for that seller, since definitions may vary. To contact a seller, click on the seller's name on the item listing page, then click the "detailed seller information" link to see a page that should include a link to contact the seller's customer service. Ask questions about the product's condition before you buy it, and if you are not satisfied with the seller's response, look elsewhere. Purchases that you make from a third party seller via Amazon.com are protected by Amazon's A-to-Z Guarantee, which covers the condition of the item and delivery in a timely fashion, even for open box items, but clarifying an item's condition in advance avoids the hassle of making a return.