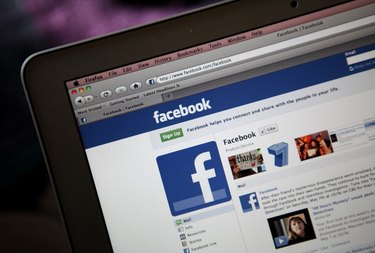 SMS, or short message service, is often referred to as "text messaging." When it comes to your Facebook account, SMS is used to get notification alerts when a new action has taken place on your profile. SMS notifications let you know about a variety of incoming communication, such as private messages or comments beneath your photos.
Add a Phone
Before you receive SMS updates from Facebook, you must link your account with a cell phone. Adding a phone takes just a few moments; go to the "Account Settings" page and then click the "Mobile" tab. Click the "Register for Facebook Text Messages" link and follow the on-screen prompts to receive a confirmation code on your cell phone. Once you enter the confirmation code, your Facebook account and mobile phone are linked and SMS notifications may begin.
Set Up Notifications
By default, Facebook sends notifications to your email address. To get SMS alerts to your phone, go to the "Notifications" tab in the "Account Settings" menu. Check the box in the "SMS" column next to each type of Facebook action you want to get a text message for. SMS alerts are not available for all Facebook actions. The actions that SMS alerts are available for include getting tagged in a photo, receiving a private message and getting a new wall comment.
Stop Notifications
SMS notification alerts are stopped just as easily as they are initiated. Just uncheck the box in the "SMS" column next to the type of action that you currently receive text messages for. Always click "Save Changes" at the bottom of the screen to ensure that you stop getting the notifications. Click the "Remove" link next to your phone number in the "Mobile" tab to eliminate the link between your phone and Facebook account.
Cost
While Facebook does not charge you to receive SMS alerts, your cell phone provider will. Know your current cell phone plan's charge per text message so that you are not surprised with a huge amount of SMS charges when your bill comes.