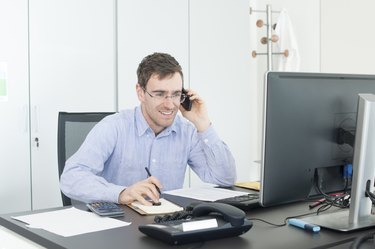 Computer issues are inevitable, so in-house technical support is a necessity for organizations with a lot of computer users. LANDESK's Remote Control capabilities allow information technology departments to minimize employee downtime by fixing computer errors and updating systems from a remote location.
Definition
LANDESK Remote Control is a software component of the LANDESK Management Suite application released by LANDESK software. IT professionals can use LANDESK Remote Control to monitor and fix remote computers. The Remote Control application works by allowing technical support staff or administrators to access computers with the application installed via the LANDESK Management Suite support application.
Capabilities
Administrators can perform a wide range of tasks on a target computer with LANDESK Remote Control. Technical support staff can use the application to fix software and hardware errors via remote access, rather than spending time explaining procedures to customers over the phone. LANDESK Remote Control can also be used to monitor the activities on a target computer to ensure that they are in compliance with company policy.
Application Benefits
Administrators can improve the quality and efficiency of technical case support by fixing problems directly on the affected computer. LANDESK Remote Control also allows administrators to more efficiently administer security updates and patches to several computers without needing to leave their desks. These group distribution capabilities are further enhanced by the ability to schedule bootup, shutdown, reboot and application launch remotely through LANDESK Management Suite.
Features
Administrators can use LANDESK Remote Control to administer any computer on their local network from a Web browser. Fixes and updates can be applied on-the-fly regardless of the administrator's physical location. LANDESK Remote Control supports administration of both Mac and PC computers from any administrative computer. The application also creates automatic logs for later process analysis.