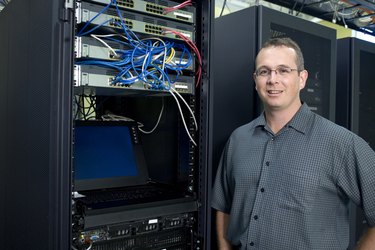 Altiris Agent is a set of asset management tools created and published by Symantec. You can use it to monitor, deploy and manage many types of computers and mobile devices on various platforms. This includes Windows, Mac and Linux. Altiris also transfers data, applications and personal settings across the organization using its Deployment Console. The primary goal of the tool is to cut information technology costs; it also aims to provide efficient maintenance and greater flexibility. Use Altiris Agent to improve response time when managing your network.
Managing Assets Using Deployment Server Console
You can use Altiris Agent to deploy, manage and control all of the computers and mobile devices in your network in real time. You can track and assess the current state of your computers. You also can keep an eye on the longevity of the computers and devices connected to your network. This gives you greater efficiency and allows to you effectively plan for future system needs.
Migration of Data, Software and Personal Settings
Altiris supports data transfer from a computer that's at the end of its life cycle to a new computer via the Deployment Console. You can replicate the previous desktop surroundings, as well as network and application settings on a new system. You also can use Altiris to install the needed software. Additionally, you can upgrade programs that already exist on your servers, computers and mobile devices. You also can install system drivers and service packs, as well as perform updates and patches for existing applications.
Deploying Computers and Servers
You can deploy and adjust large groups of computers within the company using the Deployment Solution. Altiris also can create system images that you can later install on dedicated computer groups using multicasting features. You can use previous deployment history and images saved on servers to deploy and redeploy servers automatically . You also can install operating systems on servers and computers as image files or run scripted installations.
Solving System Crashes and Other Issues Remotely
Altiris can provide remote service via the Deployment Console. This enables you to troubleshoot and restore configurations and other OS and software related issues. You also can provide live help using remote control when it comes to troubleshooting and chat accessories . You can use the Deployment Console to restore previously backed up configurations, partitions, registries and settings. If you save the history of all deployment jobs assigned to a computer, you can easily restore a system to its previous working state.