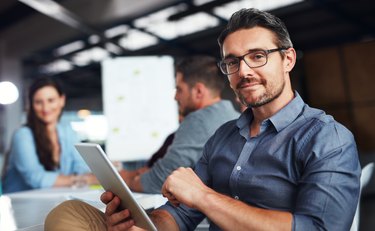 PayPal is a popular service that can be used to send money online or to pay for goods and services. When you create a PayPal account, it's typically associated with an email address, and you can use the email addresses of PayPal members to send them money or ask them to send you money.
What's a PayPal Email Address?
Websites or people you're doing business with may ask for your PayPal email address, but the company doesn't actually issue email addresses. Instead, you register for PayPal using an email address from another provider, whether it's your internet service provider, your employer or a third-party provider like Google or Microsoft. When you use the PayPal website or smart phone app, you can log in using your PayPal email address and password.
You can configure PayPal to send you notifications via email when, for example, someone sends you money. Log in to PayPal and click the "Settings" icon, then "Notifications," to configure your notification settings.
If you need to pay someone or send him money using PayPal, you can do so using a phone number or email address associated with his account. You can even use PayPal to request that someone send you money using the service. If someone to whom you send money or a request for money doesn't have a PayPal account associated with that address, he'll be invited to create one.
It's a good idea to confirm anyone's email address before sending him money or asking him for money on PayPal. If you send money to the wrong address, you may have to ask that recipient to send it back or ask PayPal for help getting a refund.
Changing Your PayPal Email Address
You can have multiple email addresses associated with your PayPal account. For instance, you might want to associate your account with your personal email address as well as a work address.
To add or remove email addresses from your PayPal account, sign in to the service's website and click the "Settings" button.
If you want to add an email address, click the "+" button in the "Email" section of the page. Type the email address you want to add in the text box and click "Add Email." Then, click "Confirm This Email." You'll receive an email at that address with a link you can click to confirm you control the account. It will then be available to use for sending or receiving funds.
If you want to remove an address from your account, click the "Remove" button next to it.
You can also change your primary email address, used to send PayPal notifications, by clicking the button reading "Make this my primary email for receiving notifications" next to one of your addresses.
It's a good idea to periodically review the addresses linked to your account to make sure they're up to date and that your primary contact address is still the most convenient for you.