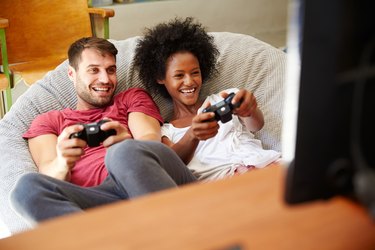 Old televisions take up space, and an environmentally conscious owner must take the proper steps to dispose of the electronics. Clever users dispose of the electronics and can find a use for the old television.
Terrarium/Aquarium
You can still look at those old analog televisions by removing the components and putting a glass aquarium that fits in the original viewing box. This requires some extra modifications to allow the tubes for fish to come into the aquarium.
An Interesting Looking Cat Bed
Converting an old television into a cat's bed does not require much imagination or a lot of work. Take out the old components, remove any sharp edges and put some soft bedding in the area that held the television screen.
Dedicated DVD, Video and Video Game Television
Older television sets still work well for most video game systems, VCRs and DVD players. Families can use the newer television to receive signals.
Proper Disposal
Not all landfills accept old television sets. Designated recycling centers dispose of toxic substances, such as lead, found in older television sets.
Retail Store Drop-Off Programs
According to Ehso.com, many retail stores offer drop-off programs for used electronics, including televisions, cell phones and computers. Some chains let a customer drop off used electronics for disposal, but the store might charge a fee.