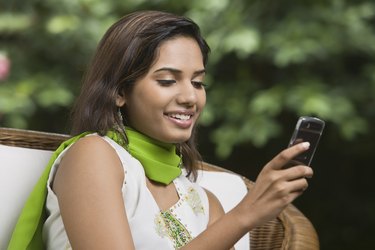 If you need a cell phone, but you don't need to surf the Internet or take photographs, and you don't want to commit to a long-term contract, you are in luck. A disposable phone may suit your simple calling needs.
TracPhone
TracFone Wireless sells a variety of prepaid phones that can be activated without service contracts. The company offers many phone models that come with various amounts of prepaid minutes. TracFone service can be purchased with brand-name cell phones, including Samsung, Nokia and Motorola. Minutes can be added with phone cards or through the TracFone website. TracFone cell phones can be purchased at TracFone.com or at major retailers, including K-Mart and Target.
Hop-on ChitterChatter Phone
Hop-on's lightweight and splashy ChitterChatter is a fun disposable phone designed with kids in mind. Besides making calls, it has a locator feature that gives a child, senior citizen or person with special needs the ability to communicate his location with the touch of one button. MarketWire reports that the ChitterChatter can be used with Verizon and AT&T networks. The phone comes with up to 2 hours of call time and does not require a contract to activate. It can currently be purchased through online retailers, and AT&T is planning to make it available in its stores.
AT&T Go Phone
AT&T's Go Phone is available without an annual contract. The company offers different "Pay as You Go" options, some of which include unlimited night and weekend minutes and unlimited texting. Go Phone service can be refreshed, or it can be canceled at any time without penalty. Service can be allowed to expire, which makes the phone disposable. A Go Phone can be purchased at AT&T stores and other retail cell phone outlets or through the AT&T website.
Cyclone Phone
Produced by New Horizons Technologies of Orlando, Florida, the Cyclone phone uses three AAA batteries and comes loaded with all-purpose 30 talk minutes. Additional time can be purchased on a voucher basis. The Cyclone is a "no-frills" unit—it simply makes and receives telephone calls. With a retail price of $40.00, the Cyclone can be purchased from online retailers, including Pharos International.
T-Mobile
T-Mobile offers prepaid plans that do not require contracts. The company offers the "Pay as You Go" plan, in which the user pays for the minutes he uses, and the "Pay By the Day" plan, in which the user pays for the days he uses the service. Although these plans are contract-free, T-Mobile does require the user to purchase a mid- to high-end phone unit to receive the service. The service can expire, but the phone itself is valuable and would be best saved in case the user wants to activate it again in the future.