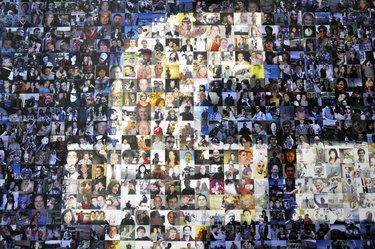 Facebook can prove a useful tool for businesses that want to promote their brand and their services on the Web, but it is important that a company Facebook page looks professional and well maintained. The thumbnail image associated with your page -- which is a smaller version of the profile photo -- represents your company across Facebook and needs to be clear and sharp; if it is blurry for any reason replace it as soon as possible.
Possible Causes
A default thumbnail image on Facebook may become blurry for several reasons: it's possible the original upload process was interrupted, the original file wasn't saved correctly, or Facebook is experiencing problems with its servers. Replacing the profile picture with a new copy should be enough to fix the problem and restore a high-quality thumbnail image. Facebook does not allow users to upload profile pictures that are too small to be used -- less than 180 pixels wide.
Editing your Thumbnail Image
If you have a copy of your original profile image on your hard drive, use an image-editing package of your choice to edit it. Windows includes the simple Paint tool for this task, while more advanced freeware packages such as Gimp for the desktop or the browser-based Pixlr Editor are also available if needed. Use an image editor to save your Facebook profile picture at the highest resolution possible and at a size greater than 180 pixels wide.
Replacing Your Thumbnail Image
To replace your default profile picture, log in to Facebook and hover the mouse over the existing profile photo. Choose "Edit Profile Picture" and then "Upload photo" from the list. Images can also be added from existing Facebook albums or from a connected webcam device. When the upload process is complete, choose "Edit Profile Picture" and then "Edit thumbnail" to alter the section of the picture that will display as the thumbnail. The new thumbnail should be sharp and clear.
Further Troubleshooting
If the thumbnail image continues to look blurry, start the photo-creation process from scratch, saving the new image with a different file name and in a different folder before uploading it, and using the highest resolution and quality settings at each stage. This minimizes the chance of a corrupted or low-quality file causing the blurry thumbnail image. To eliminate the possibility of a browser or extension problem interfering with the profile picture, switch to an alternative browser when uploading and setting your thumbnail picture.