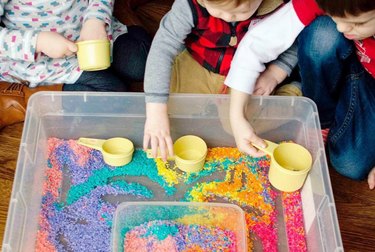 Coming up with fun, new sensory activities for your babies and toddlers isn't an easy task, unless you're the mom who runs the most creative Instagram page ever.
Busy Toddler is an Instagram page and blog run by a mom who is insanely good at coming up with the most creative ideas for baby and toddler activities. And the best part is, they're all super easy to set up.
The page is run by Susie, a former teacher turned stay-at-home-mom. As she notes in her bio, she's "all about fun, simple activities that can be set up in seconds but hold little attention spans for much longer." And she really is all about said activities.
She posts a new activity every day, and writes a lengthy explanation of the set up, benefits, and how it works with her own kids.
Here are some of her genius ideas:
If you want more info on each of the activities, visit the Busy Toddler website. You won't regret it.