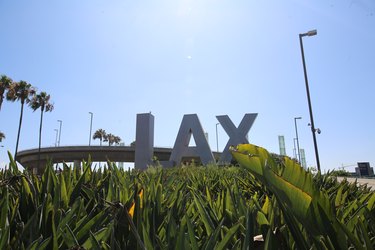 Uber and Lyft have officially been banned from picking up passengers outside the terminals at Los Angeles International Airport.
Starting around October 29th, passengers who call for a ride-hailing vehicle will have to hop on a shuttle that'll take them to a parking lot next to Terminal 1, according to the Los Angeles Times.
LAX is undergoing major renovations, causing the airport terminals to be even more congested than normal. Ride-hailing services contribute to the added congestion.
"We understand that trying to get into the central terminal area is a challenge and has been for a long time, and we've been working to make that much better," Keith Wilschetz, deputy executive director of the Operations and Emergency Management Division at Los Angeles World Airports, told the LA Times. "This is a way we can do that."
The change is obviously going to be a major inconvenience for passengers, but taking a shuttle to another location is better than not being able to use Uber or Lyft at all.