If you've been searching for a home security camera, but haven't found the right fit, check out this brand new one from Eve Systems.
At CES this week, Eve Systems announced Eve Cam, the first ever indoor home security camera made exclusively for Apple's HomeKit Secure Video.
Eve Cam is small, getting the job done without taking up too much space. It's a full HD camera with a 150-degree ultrawide field of view, with infrared vision providing views at night when the lights are off. It has an integrated microphone and speaker, giving you the ability to talk to whoever is in the room—whether it's to tell your kids to turn off the TV and do their homework, talk to your pets when you're at work, or to warn an intruder that you've called the police.
Apple HomeKit Secure Video support ensures that any motion captured by the camera is analyzed by your home hub (either an Apple TV, HomePod, or iOS 13 device), and then either discounted if the activity is something mundane like your pet walking around, or the footage is saved in your linked iCloud account. It will automatically be kept for up to 10 days without taking up iCloud storage space.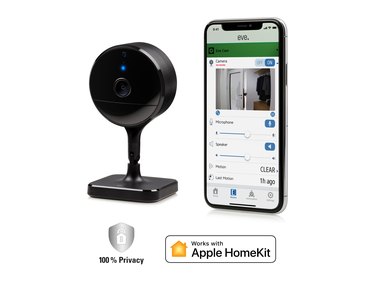 The camera comes with a magnetic base so it can either placed on a shelf or installed on a wall.
Eve Cam will be available to buy in April for $149.95.