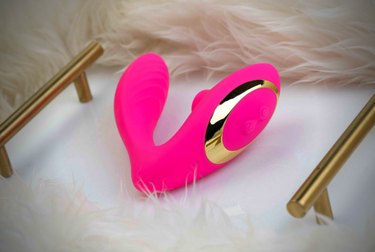 Buying a vibrator is a very personal activity—or at least, for some people it is. But sometimes you come across a vibrator that's so mind-blowing and life changing, you feel it's extremely necessary to leave a review so the world knows. OK, maybe not you, but many, many others.
The Amazon reviews for Tracy's Dog Clitoral Sucking Vibrator (which has nothing to do with an actual dog) are so enthusiastic and positive, they're going to make you want to buy one immediately.
The best-selling vibrator features 10 suction and vibration patterns, and people are losing their minds in the Amazon review section with over 6,400 ratings. And by the way, it's less than $50.
Here are some favorites, because it's never the wrong time to buy a vibrator—or at least appreciate the hilarity of the people who love it. (The biggest takeaway is to hydrate and stretch, FYI.)
"This is a weapon. It cured my depression, I don't go to therapy anymore. I was walking from side to side after I finished using this thing, you'll feel like you just had your best dick appointment ever. Trust me. Best believe you will never see me frown ever again. My life has completely changed. Have a blessed day."
"I'm dead. I died and I'm never leaving my house again. By far the best sex toy I've ever used and I've used a LOT of sex toys. I'd pay $300 for this. Easy. Mind blowing doesn't begin to touch it. They didn't ask me to review the product. I mean, I don't know if they did. I got it out of the box an hour ago and now I'm just laying here like a crazy person who doesn't want to tell all her Facebook friends about this CREATION but I need you all to know. LADIES! DEAR GOD BUY THIS AND YOU'RE WELCOME. Warning: start slow. I'm not kidding. I'm not over sensitive at all and level 4 can be too much. Whatever, you know what? Do what you want. You'll figure it out when you start to hear colors."
"So I just finished with this machine and ... why.. just why, this thing has ruined me for any man. I am about to get on one knee and marry this thing and have Tracy's puppies. I looked like Chewbacca trying to string a needle as I try to plop this contraption on my lady bits. Tongue hanging out all over the place. So I finally get it in place and turn it on. Like a toddler who found the remote I start pressing buttons. I figure meh I can take it, it's been a while since my rug has been dusted, so why not. I press and I press... next thing I know my body lurches forward and I am climaxing. It is so violent that the little one two abs I was working out at the gym locked up. Now I trying to RIP this thing out my coochie cause I here footsteps but I cant cause my damn stomach done locked up. The Lord works in mysterious ways cause the footsteps turned the other way. After I started singing some scripture (cause the suction can be heard). Moral of the story. If you gonna use it. Be ALONE and don't go after the gym."
"This was the best $50 I have ever spent in my life! Every single person over 18 with a vagina needs one of these. I have been having issues lately with my 'drive' because of my birth control, and after seeing a post about this beautiful little piece of equipment on Facebook, I said screw it. It came in 4 days! Let's just say I'm not having any more issues and I keep it plugged in more than my phone."
This person's review was so good, it went viral. It's cut down for length, but you'll get the gist:
I found placement for the clit a bit low for my body shape, it took me a few min to get everything where it needed to be. That was a bit time consuming and slightly fustrating. But as with any new toy, its trial and error. I started the clit one on low, which i barely even felt. Unbeknownst to me it wasn't lined up 100%. So, me being me, i decide to go from zero to 60 in 3.5. I hit the suction button setting to level 5 or 6 and hit the g spot button as well. And made a minor adjustment on suction placement. At least i think that's what happened, Because I'm pretty sure i blacked out,
My legs went straight out like those goats who faint when scared.
I never came so fast and so hard in my life. I squirted, i have NEVER DONE THAT. (Luckily i put a towel down cause i hate wet spots)
I frantically tried to turn it off, but ended up hitting the buttons like a maniac, sending to even stronger suction and now variant pulses from the g spot vibrator. And came, again. Im pretty sure i levitated. It was an unending orgasm.
This time, my soul left me, and god himself said "child, it is not your time, go back to the lil pink light." (Mind you, im agnostic.)
I'm brought back into my earthly body after managing to pull it off me throwing it across my bed, it falls to the floor, still buzzing happily away.
I shook for a good 5 minutes, i couldn't get up off the bed if even wanted to. I stared at my ceiling dazed trying to remember who i am and what year is this.
I get up to clean up and realize in my seizure like orgasms, i hurt my hip and back. Im still hobbling 4 hours later
I did not stretch enough.
So in conclusion, this met and exceeded expectations. Hydrate, make sure you don't have to do anything that involves decisions or brainpower for the rest of the day. And for the love of god, stretch like you are about to run the 500 meter dash."
Buy Tracy's Dog Clitoral Sucking Vibrator here for $47.