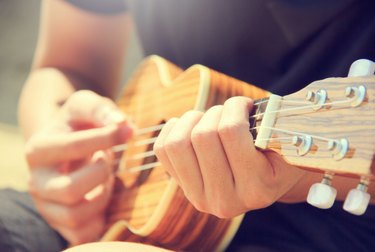 If you've been meaning to learn how to play the guitar or Ukulele, or if you've been looking for a new hobby to take on while in quarantine, Fender is doing you a solid.
Fender is offering free online classes that'll teach you how to play guitar, electric guitar, bass, and ukulele. When the program launched, only the first 100,00 people could sign up for free, but because of its popularity, Fender is extending the offer to 1 million people who create an account on Fender Play, their online learning platform. The free lessons will run for three months—hopefully more than enough time to get you through the stay-at-home period we're in now.
Once you sign up for an account, you'll be given a unique code that'll give you access to the lessons. First, you'll need to pick the instrument you're interested in learning. (Since most non-essential business are closed, it's obviously going to have to be one you already have at home).
There are several courses in each level, and the lessons use popular songs to teach you how to play. Each "bite-sized" video lesson is taught by a professional, and they can be streamed anytime or anywhere you choose.
"With everything happening in the world, music has the power to connect us," Fender explained on its website. "We want to do our part to see you through–the way we know how. We're all going to be spending more time inside–so we might as well make some noise."
Click here to get started.