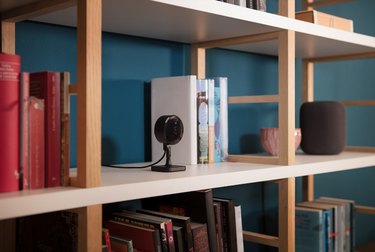 Home security cameras just keep getting better and better. Eve Cam is a new indoor security camera made exclusively for Apple HomeKit Secure Video, and it delivers private and secure video recording, leaving you with one less thing to worry about.
Eve Cam is all about privacy. The company doesn't require you to register for an account, there's no Eve Cloud to stream video through, and the home hub gives you fully encrypted access to the cam.
The camera helps protect your home from intruders while keeping an eye on your pets and property. You have the option to turn on or off the video stream, and even when it's off, the motion sensor can be used to keep track of activity around the house. Every event is displayed on the Eve app timeline, so if a certain pet decides to chew your shoe, you can watch it happen.
The home hub is set up through Apple TV, iPad, or HomePod, and when motion is detected, the hub privately analyzes the live feed to determine what or who is present. A single camera can be added to a 200 GB storage plan or up to five cameras to a 2 TB plan at no additional cost. The recordings stick around for 10 days before they're automatically moved to iCloud storage.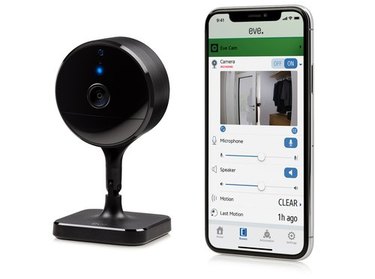 Eve Cam can turn on HomeKit enabled lamps, light switches, and power outlets based on motion. So, if there's motion in your home while you're sleeping, lights can be set to turn on. Or when you come home at night, the lights can automatically be set to turn on when you walk in the door.