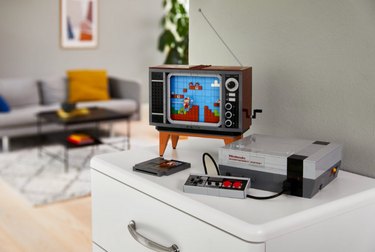 Before Xbox, before Playstation, and before Fortnite, there was a little gray box. It only worked occasionally, and after a solid cartridge blow, but that didn't matter. The Nintendo Entertainment System, aka NES, was awesome—possibly because it was one of very few gaming options at the time, but also because of Super Mario Bros.
Lego just unveiled a brick-based replica of NES (which happens to turn 37 years old today), and it's almost as awesome as the original. Almost, because it doesn't actually play video games, but you do get to build the console yourself.
The set includes the console, controller, and a cartridge you can actually place into the console. It also comes with a buildable TV, a very small 8-bit Mario figure, and a crank that moves the screen as you "play." A special Action Brick can be scanned by the Lego Mario that comes with the upcoming Starter Course play set, enabling Mario to react to obstacles, enemies, and power-ups that are sliding by on the brick screen.
The 2,600-piece kit will be released on August 1st for $229.99.