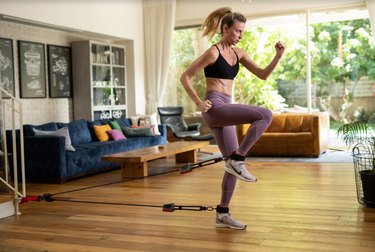 Home gyms are the new thing—partly because gyms are still closed due to the pandemic, but also because people are realizing they can get a great workout without leaving their homes and without spending a fortune.
Hyfit recently launched Gear 1, a smart resistance training system that, compared to a fancy gym membership, is pretty affordable. If you already own resistance bands, you probably have several of them laying around—all with different resistance levels. With Gear 1, all you need is one.
Gear 1 has sensors inside the resistance bands that connect to your smartphone, giving you workout data as it happens. You can keep track of the number of reps completed, exercise duration, speed, and resistance used. The data is helpful if you want to continuously improve.
The band itself can be set up in several different ways, allowing you to workout almost anywhere—whether you're inside your house, in your backyard, at a park, at work, etc. It can be anchored to a door or another sturdy object, or it can be worn using the ankle and wrist bands.
Gear 1 comes with access to the app's workout library full of video-guided programs in all training levels. Programs include strength, HIIT and cardio, weight loss, abs, and core. You can find exercises and workouts by searching a specific muscle group (chest, legs, abs, biceps, triceps, shoulders, etc.)
Buy Hyfit's Gear 1 here for $279.