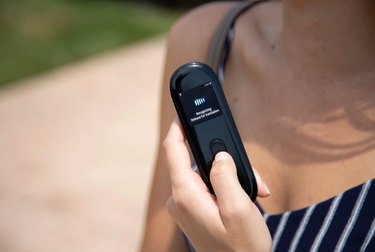 Whether you're traveling to a foreign country and don't speak the language, or if you need to communicate with someone in your own neighborhood who speaks a language you don't know, the new CheetahTALK Plus from Cheetah Mobile is a quick, easy, and efficient way to do it.
Currently crowdfunding on Indiegogo, the CheetahTALK Plus is a portable translator that breaks language barriers instantly. The device itself is smaller than a standard smartphone and can fit in most pockets, making it easy to carry around when you think you might need it.
The device works with 73 languages across 90% of the world and guarantees accurate translations, including slang and dialects. Plus, whenever an update becomes available, it'll reach your device for free.
Hold the button while you or someone else talks. When the button is released, the translation will be read out loud, as well as appear on the device's screen and on your connected smartphone. You don't need to change any settings to switch languages—the device can automatically pick up on whatever language is being spoken.
The battery lasts up to 50 days, and noise canceling technology allows for voices to be picked up from up to 6 feet away.
According to the company, CheetahTALK is a better option than an app like Google Translate. It has better accuracy, portability, ease of use, user experience, far-field voice recognition, noise canceling, and recording capabilities.
The price for a device on Indiegogo is $109, while the retail cost is $199. Shipments start in October. You can back the project here.