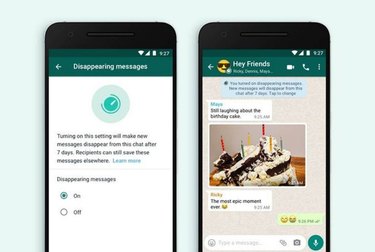 WhatsApp launched a new feature that will delete messages in chat conversations after seven days. Users will be able to enable the disappearing message option in individual chat conversations, and group admins can enable disappearing messages in group chats.
Disappearing messages will also delete photos and videos after seven days. It's still possible to take screenshots of any chat conversation before they've been deleted. So if your friend wrote something hilarious or sent a photo of something that you want to remember forever, you should probably take a screenshot.
"We're starting with 7 days because we think it offers peace of mind that conversations aren't permanent, while remaining practical so you don't forget what you were chatting about," a WhatsApp spokesperson said. "The shopping list or store address you received a few days ago will be there while you need it, and then disappear after you don't."
The new feature only affects new messages after it's been enabled by either chat participant. It can be found in the contact section of each friend, and according to WhatsApp, it'll begin rolling out the feature to all users sometime this month.