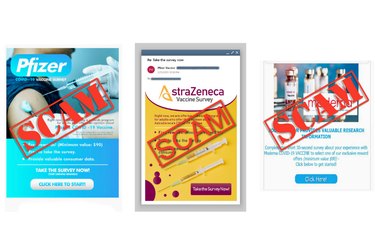 If scammers can find a way to steal money from innocent people, they will — even during a global pandemic. The Federal Trade Commission has issued a warning to ignore COVID-19 vaccine survey scams that attempt to trick you into handing over your personal and financial information.
People all over the U.S. have reported receiving emails and texts out of no where with a link requesting they complete a limited-time survey about the Pfizer, Moderna, or AstraZeneca vaccine. Johnson & Johnson is sure to follow. In exchange for filling out the survey, people are being offered free rewards, but here's the trick — they have to pay shipping. Of course, to pay shipping, they have to enter their credit card information, which is then compromised. There are several scams going around, but that's the general idea of most of them.
It isn't hard fall for a scam that actually does seem real. Like, if you just got the Pfizer vaccine and shortly after receive a text offering you something cool if you take a survey, it's easy to assume it's coming from some sort of legit organization that knows who is getting which vaccines and needs more information for the greater good of humanity. And everyone loves free things. But, no.
What to do if you receive an email or text you aren't sure about
Whether you're viewing it on your computer or phone, don't click any links or open attachments. The FTC notes that scammers can install harmful malware that steals your personal information without you knowing. Never give your bank account, credit card, or other financial or personal information.
If you still aren't sure, ask a tech savvy friend or family member. It sometimes takes an extra set of eyes to determine if something is legit or not.